The CarbonNeutral Protocol
The CarbonNeutral Protocol
A framework for high impact climate action
For two decades, The CarbonNeutral Protocol has played a critical role in enabling clients to confidently make clear and credible claims about their climate programmes and navigate the complicated and rapidly developing landscape of voluntary climate action.

This past year has seen a number of seismic shifts in voluntary action that are set to play out over the coming two to three years. This 2022 version of The CarbonNeutral Protocol continues our process of annual revisions that embrace and promote evolving best practice.
2021's inflection points

During 2021, despite the disruptions of Covid-19, we have witnessed step changes across five critical dimensions of climate action: science, ambition, quality, integrity, and impact.

1. Science
Against a backdrop of substantial evidence of our changing climate, this year saw the usual debate about the science replaced by a rising emphasis on an urgently required response. In August, the first instalment of the Intergovernmental Panel on Climate Change's (IPCC) Sixth Assessment Report (AR6) gave rise to calls of a "code red" for humanity. That same month, the IPCC's work prompted a press release headlined "Climate change widespread, rapid, and intensifying".

The scientific basis for strengthening climate action in line with a 1.5°C target is no longer in dispute. Pathways consistent with this goal have become the central blueprint for guiding individual and cooperative efforts, in order to avoid further uncontrolled climate change. While the 1.5°C target is clear and simple to understand, the latest IPCC modelling anticipates that this limit is likely to be breached in the early 2030s. Our best efforts to deliver a 1.5°C outcome will therefore require the intelligent deployment of all credible means to finance and deliver climate mitigation, to which voluntary action ahead of and beyond regulation will play an essential role.
2. Ambition
The unequivocal message from the IPCC piled pressure on COP26 to raise ambition across nations party to the UNFCCC's Paris Agreement. The Agreement, ratified in 2015, translates the 1.5°C target into a minimum requirement of net zero greenhouse gas (GHG) emissions by 2050. By the end of COP26 in mid-November, around 90% of world GDP was covered by Nationally Determined Contributions i.e., national emission reduction targets, that were committed to net zero – most by 2050, a few sooner and, for some quite significant countries, by 2060 or 2070.

The danger of long-term commitments is that there is little or no guarantee that they will be achieved. Under The Paris Agreement, there is no meaningful sanction or remedy for countries that do not deliver. Now, with the overwhelming dominance of net zero national targets, what was once climate leadership is being redefined as 'climate responsible'. Organisations anticipating and delivering on these targets today are acting responsibly ahead of policy and regulation, which will likely be put in place to deliver net zero. Our research into the climate commitments of the Fortune Global 500 companies found that a majority of net zero targets have a target date in line with the national target for net zero where they are headquartered, or the Paris Agreement's 2050 target date (Natural Capital Partners, 2021, Reality Check, link).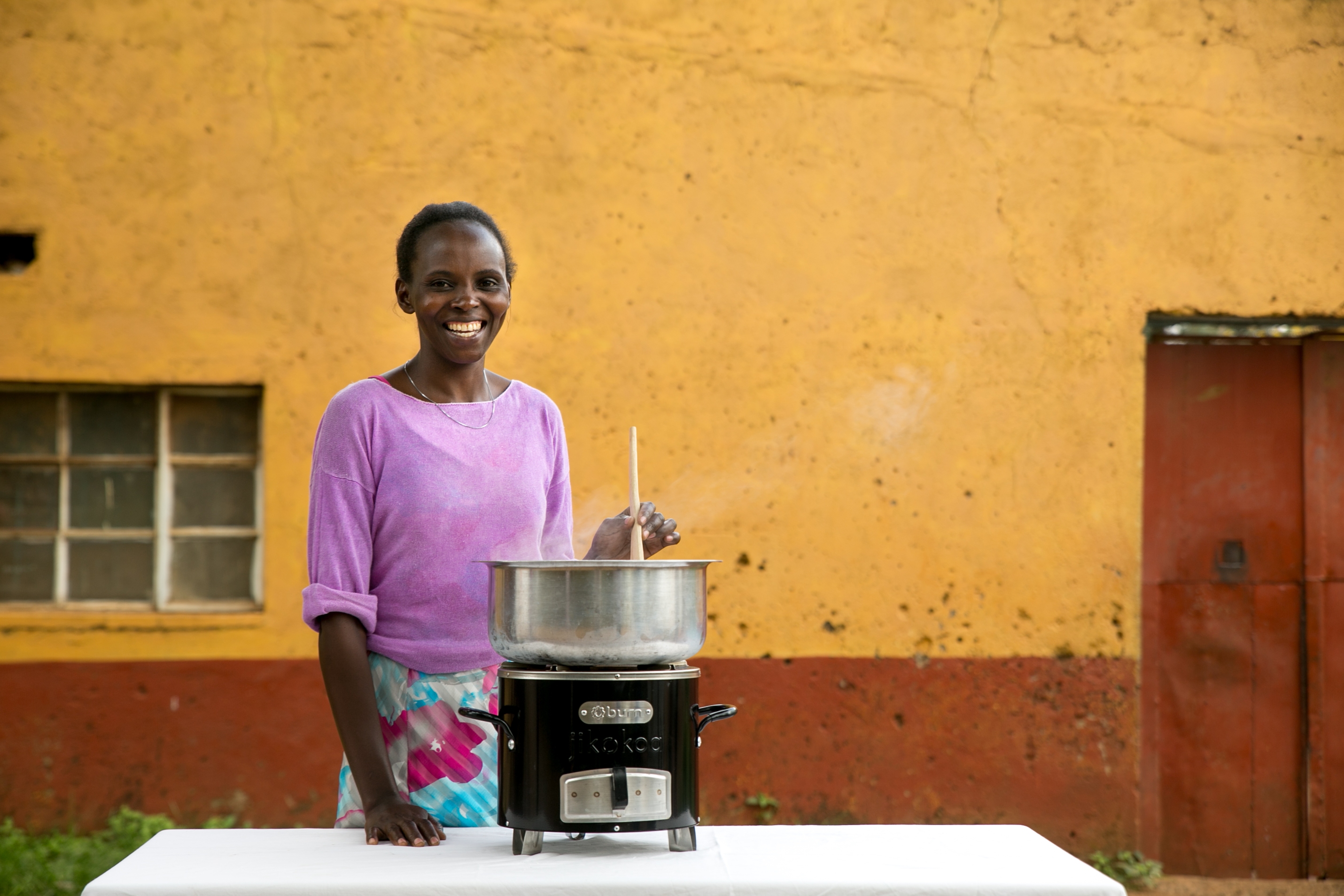 Image: Burn-Efficient Cookstoves, Kenya: Reducing global carbon emissions by providing families in Kenya with cleaner, more efficient cookstoves

However, recognising that regulation will continue to tighten under pressure from stakeholders (primarily investors, business-to-business customers, and civic society) climate leaders are raising their ambition beyond regulatory likelihood. They are doing so with carbon neutrality on the way to net zero to underpin commitments with ongoing action; by shifting the emphasis from 'net zero' to 'net positive' (e.g., by taking care of legacy emissions); by combining avoided and reduced emissions with removals; and by extending the focus on entities to include products and services in the circular economy.

3. Quality
Analysis by The Climate Tracker (an independent consortium of science and policy agencies) shows that the latest set of improved NDCs falls short of a credible 2030 interim target by 19-23 GtCO2e – more than half of global energy-related GHG emissions in 2021 (International Energy Agency, 2021, Global Energy Review, link). This shortfall calls into question the quality of national commitments, which are weak on targets in the near-term and possibly over-optimistic about the ability to deploy low-carbon technologies over the longer-term.
Responding to the needs for credibility in net zero commitments and claims, the Science Based Target initiative (SBTi) launched its Corporate Net-Zero Standard in October, focusing attention on the importance of science-informed abatement within Scopes 1, 2 and 3, as well as the requirement to neutralise unabated emissions only with removals. Along the way, however, the Standard recommends compensation for all unabated emissions, concluding that: "In the transition to net-zero, companies should take action to mitigate emissions beyond their value chains" and that "purchasing high-quality carbon credits in addition to reducing emissions along a science-based trajectory can play a critical role in accelerating the transition to net-zero emissions at the global level."
After six frustrating years of negotiations, COP26 also saw the finalisation of rules for Article 6 of the Paris Agreement. This is the section that defines modalities for global collaboration on climate mitigation and adaptation, including an international carbon market for the trading of emissions reductions. Work is still required to further define and embed those modalities, to ensure that the financing, measurement, accounting, and transfer of mitigation outcomes amongst nations and non-state actors is transparent, accurate and delivers real and meaningful climate impact. Until that work is complete, most likely around 2025, accounting mechanisms for voluntary action in the private sector will need to evolve and align with these yet to be defined developments.
Of course, as private sector climate action grows in scale and importance, the level of scrutiny grows in lockstep. However, what should no longer be in question is the continued evolution and strengthening of quality of the carbon credits and processes governing their trade and retirement, which are critical aspects of carbon neutrality. Recognised and respected voluntary carbon standards continue to adapt their methodologies in anticipation of future requirements and seek to provide solutions that give organisations adopting carbon neutrality the ability to make credible claims during this period of transition.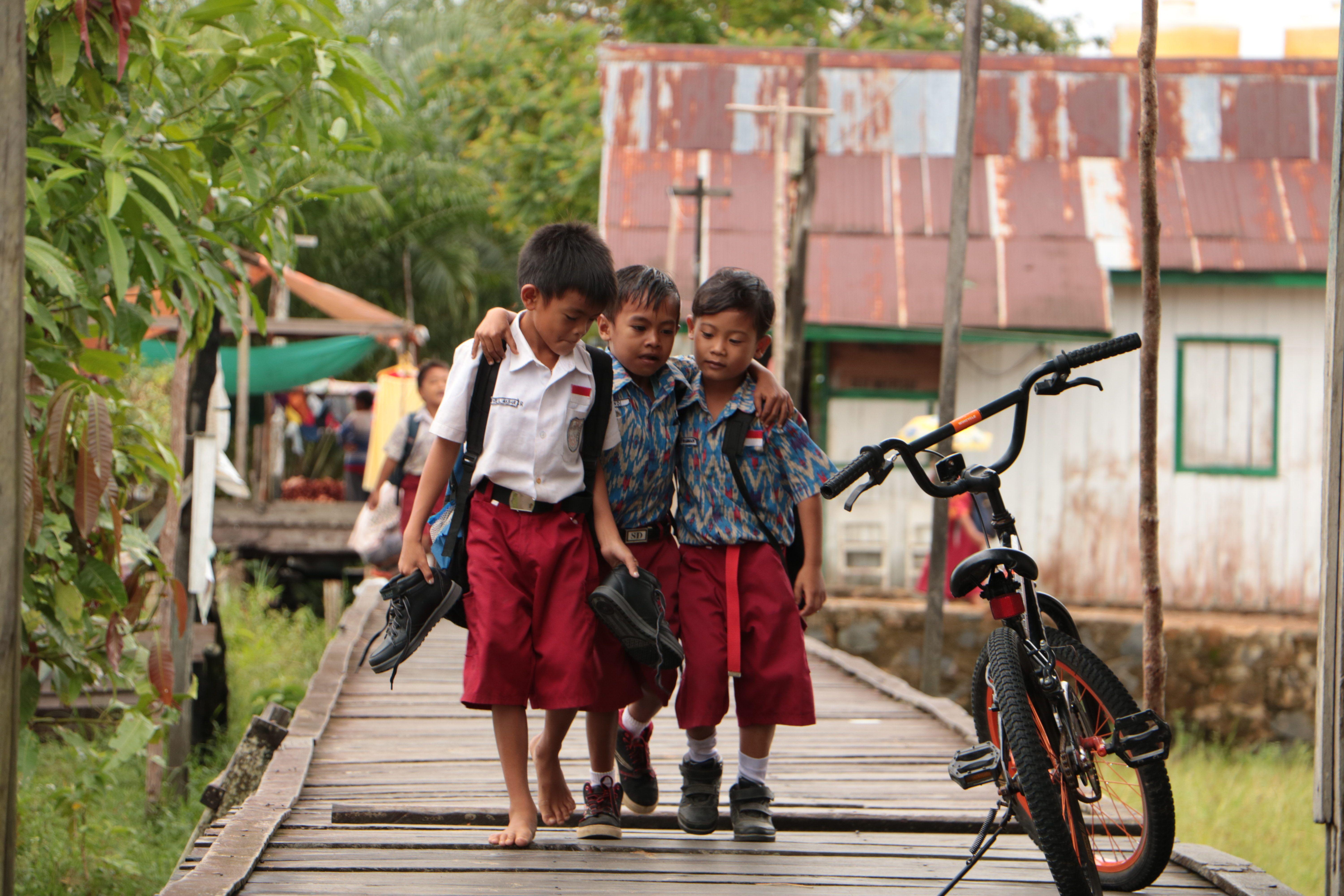 Image: Rimba Raya Biodiversity Reserve REDD+, Indonesia: The project has established a scholarship fund to enhance educational access and provide writing books
4. Integrity
The Carney Taskforce for Scaling the Voluntary Carbon Market (TSVCM) is a private sector led initiative launched in 2020 to build a scalable commoditised carbon market from the foundations laid by the voluntary carbon market. It completed its concept and design phases in early 2021 and is now in the process of establishing a marketplace under its new name – the Integrity Council for the Voluntary Carbon Market (ICVCM).

Integrity in this instance relates to the way in which carbon credits are established under recognised standards, traded to deliver funding to projects around the world, and retired to enable entities to demonstrate their voluntary and, in time, compliance-driven actions that compensate or neutralise unabated emissions. Their first task will be to agree to Core Carbon Principles that will underpin the integrity of traded and retired instruments.
A parallel initiative, the Voluntary Carbon Market Integrity Initiative (VCMI) is a multi-stakeholder civil society initiative, supported by environmental NGOs and non-profit foundations, with a wider integrity brief. In October, it published "Roadmap: Ensuring High-Integrity Voluntary Carbon Markets," a vision for aligning voluntary carbon markets (VCMs) with the 1.5C Paris Agreement ambition. The VCMI intends to focus its work in two critical areas – claims in support of voluntary action and the inter-dependence between voluntary action, national climate priorities and the Paris Agreement.

The two carbon standards that together cover the majority of carbon credits issued, sold and retired for voluntary purposes – VCS, run by Verra, and Gold Standard – have signalled slightly different approaches to ensuring continued integrity of the voluntary market within the new structure of the Paris Agreement. Over time, as countries put in place the processes for accounting for emission reduction projects and trading the credits that result, there will be some credits that have been 'correspondingly adjusted', i.e., the host country does not count the emission reduction towards its reporting to the UNFCCC, and others that have not. Depending on the standard, this may lead to different types of claims becoming available to private sector entities that purchase and retire credits. The VCMI is considering these differences.
5. Impact
Together, these initiatives will play a key role in shaping the rapidly changing nature of voluntary action and will make critically important contributions to the key foundations of ambition, quality and integrity.

Carbon finance is increasingly recognised as a vehicle not only for climate action, but for sustainable development more broadly. And as a major vehicle of that finance, carbon neutrality is a pragmatic and accessible tool for the growing number of companies that seek to match ambition with action today. It is deployed by organisations that wish to complement longer-term, science-based abatement targets with immediate emission reductions beyond their operational control, accelerating progress towards a net zero global economy.

In focusing on projects with attributes that deliver value to communities and ecosystems alike, corporate buyers are also choosing to do more than simply offset their emissions. A majority of the financing for emission reductions uses the voluntary carbon market to find and support mitigation projects, which also deliver against Sustainable Development Goals (SDGs). Initiatives such as The Science Based Targets Network (SBTN) intend to bring the quantification, measurement and reporting of these co-benefits up to the levels established by carbon market standards, to measure, report and verify climate mitigation outcomes.
Navigating the changing landscape for voluntary action
Change across these five dimensions of voluntary action is set to be wide-ranging and uncertain for the next year, if not more. As we navigate the 'rapids' of an evolving landscape, we intend to expand our normal consultation of users of The CarbonNeutral Protocol through a planned series of broader dialogues to ensure that the future changes enhance its relevance and value. The principles underpinning The Protocol (see below) will remain our 'North Star' and will ensure that The Protocol continues to provide pragmatic and accessible guidance.
Introducing The CarbonNeutral Protocol 2022
We are pleased to present this 2022 edition of The CarbonNeutral Protocol. First developed and published in 2002, the Protocol is revised and updated annually to reflect developments in climate science, international policy, standards and business practice. It is an open source standard and guide developed for business by business that draws together leading independent standards for greenhouse gas accounting into a practical guide to carbon neutrality.
It underpins CarbonNeutral® certifications awarded by Natural Capital Partners to recognise carbon neutral organisations, products and activities, and provides a detailed framework for the design and implementation of credible carbon neutral programmes.
Purpose
The CarbonNeutral Protocol is designed for:
Businesses and organisations – To understand what is required to develop a credible carbon neutral programme and to achieve CarbonNeutral® certification
Technical partners – To ensure Natural Capital Partners' technical partners (e.g. GHG assessors) understand what is required of them so that their services are consistent with the requirements of each CarbonNeutral® certification
The wider "Climate Action Community" – To encourage partnerships amongst business, NGOs, policy-makers, regulators and civil society to promote high standards for carbon accounting and the offsetting of greenhouse gas emissions
The CarbonNeutral Protocol has been developed as a set of requirements to provide businesses with a single-source guide to make credible, transparent claims anywhere in the world. As third-party standards are developed, The CarbonNeutral Protocol aims to provide a framework which builds upon the best guidance in the market and offers a unifying process for making carbon neutral claims that are recognised internationally.
Principles
Three principles are the foundation for CarbonNeutral certifications:
Promote immediate action to support deeper and widespread transformation: Carbon neutrality is the action taken immediately by an entity to fully compensate for the global warming impact from its greenhouse gas emissions. Transformation to a sustainable and resilient net zero economy is accelerated by carbon neutrality as entities act ahead of and beyond regulation. Carbon neutral entities reduce emissions under their direct control and enable mitigation activities elsewhere that require finance to deliver mitigation in line with the UNFCCC's goals and contribute to the UN's Sustainable Development Goals.
Built on conservative estimation, best practice, transparency and continuous improvement: Entities use the CarbonNeutral® logo as a credible marker of best practice when communicating their voluntary climate action to key stakeholders. Entities commit to disclosing the basis of their claims – including the GHG emission inventories, management processes, methodologies, standards and protocols that deliver carbon neutrality in accordance with the requirements of the CarbonNeutral Protocol – and accept that these requirements may change to align with emerging best practice.
Committed to pragmatism and impact: Achieving carbon neutrality is an actionable, understandable and pragmatic response that can be adopted by any entity to meet its climate objectives and play a meaningful role in driving the transition to net zero across the global economy. The CarbonNeutral certification logo enables entities to communicate their commitment to carbon neutrality to key stakeholders so they may be recognised and rewarded for their progressive action.
These principles guide the development and application of the Protocol, particularly when the application of the Protocol's requirements to specific issues or situations is ambiguous or unclear. When specific circumstances arise where the application of the Protocol's requirements would not align with the intent of the principles, Natural Capital Partners reserves the right to amend the requirements of the Protocol to ensure the integrity of the certification.
Structure
High-level requirements for achieving CarbonNeutral® certification are set out in the Core Requirements section of this document. More detailed requirements are set out in the Technical Specifications that follow it. Detailed advice and clarification on selected topics can be found in the subsequent Guidance.
The term "must" is used in this document to indicate a requirement of the Protocol. The term "must not" indicates prohibited actions. The term "should" is used to indicate a recommendation, but not a requirement.
Development
The CarbonNeutral Protocol undergoes an annual development cycle which involves input from multiple stakeholders.
Natural Capital Partners' Advisory Council is consulted on development priorities within the annual revision cycle. In addition, we consult with certified companies, our assessment partners and other sustainability leaders and environmental NGOs. We will seek to further deepen this consultation ahead of the 2023 edition.
Natural Capital Partners also invites and encourages input from clients and others with an interest in carbon neutrality. Suggestions for development priorities for subsequent versions of The CarbonNeutral Protocol should be sent to Natural Capital Partners at info@naturalcapitalpartners.com.

Based upon our experience and understanding of changing client needs, developments in the market for climate solutions and guidance from our Advisory Council, material changes to The CarbonNeutral Protocol in this 2022 version include:
Relationship to other standards, protocols and broader context
The Protocol incorporates best practices in the areas of measurement and monitoring of GHG emissions and the design and certification of emission mitigation projects. Concerning GHG measurement, the Protocol is aligned with the GHG Protocol Corporate Standard (including the separate Guidance on Scope 2 and 3 accounting), the GHG Protocol Product Standard, ISO standards for Life Cycle Assessment and Carbon Footprinting and the principles of the BSI PAS 2050 standard for products and services.
The Protocol is both influenced by and contributes to the evolution of other relevant standards, including but not limited to: ICROA's Code of Best Practice; ISO's new project to define carbon neutrality; and the Science Based Targets initiative's (SBTi) Corporate Net-Zero Standard. These are critical to the Protocol's evolution and the Protocol's experience of being used as a framework for climate action around the world makes it a key point of reference. In 2022, we expect that the Voluntary Carbon Market Integrity Initiative (VCMI) and the Integrity Council for the Voluntary Carbon Market (also known as the Carney Taskforce for Scaling the Voluntary Carbon Market) will develop new guidance relevant to the application of The CarbonNeutral Protocol.
The Protocol recognises the importance of taking action that is appropriate and proportionate to the range and scale of a client's sustainability impacts. CarbonNeutral® certifications by definition are focused on climate impacts. However, clients should assess their material environmental, social, and economic impacts and take action appropriate to related impacts. Clients should use internationally recognised management standards, appropriate to the scale of their impacts, to identify and manage their key impacts. Such management standards include but are not limited to the ISO 14000 and ISO 9000 series.
About Natural Capital Partners
With more than 300 clients in over 30 countries, including Microsoft, MetLife, Logitech, PwC, Sky and Ørsted, Natural Capital Partners is harnessing the power of business to create a more sustainable world. Through a global network of projects, the company delivers the highest quality solutions which make real change possible: reducing carbon emissions, generating renewable energy, building resilience in supply chains, conserving and restoring forests and biodiversity, and improving health and livelihoods.
Natural Capital Partners was founded in 1997 and has offices in North and South America, Asia, and Europe. Since it began, the company has worked with more than 500 projects in 75 countries on behalf of its clients.
The CarbonNeutral Protocol is one of the services provided by Natural Capital Partners.
In May 2021, Natural Capital Partners merged with ClimateCare. The combined group will use its access to capital, global reach and longstanding industry and project development expertise to drive further innovative solutions and partner with its clients to deliver on their ambitious climate and net zero goals.
Acknowledgements
Natural Capital Partners is solely responsible for the development and deployment of The CarbonNeutral Protocol as an open access standard. However, we wish to acknowledge and thank our clients, members of our Advisory Council, and the many organisations and individuals that have encouraged, supported and shared their expertise with us during the development of the Protocol since it was first launched in 2002. We could not have done our work without their invaluable help.
Use, legal disclaimer and copyright
The CarbonNeutral Protocol should be applied in conjunction with relevant terms and conditions on the use of logos, marks and trademarks owned by Natural Capital Partners, as specified in contracts with Natural Capital Partners.
CarbonNeutral® certifications made in accordance with previous versions of The CarbonNeutral Protocol are not retroactively affected by subsequent changes to The CarbonNeutral Protocol. In practice, this means that the version of The CarbonNeutral Protocol applicable to a certification is the version as of the date when the contract for certification of the relevant subject is signed. The latest version of The CarbonNeutral Protocol should be used when Certifications are renewed.
CarbonNeutral® is the registered trademark of Natural Capital Partners. The copyright notice displayed in this document indicates when the document was last issued
Awards
Natural Capital Partners was recognized by Environmental Finance as Best Offset Retailer from 2011-2020 and Best Advisory Service from 2017-2020.